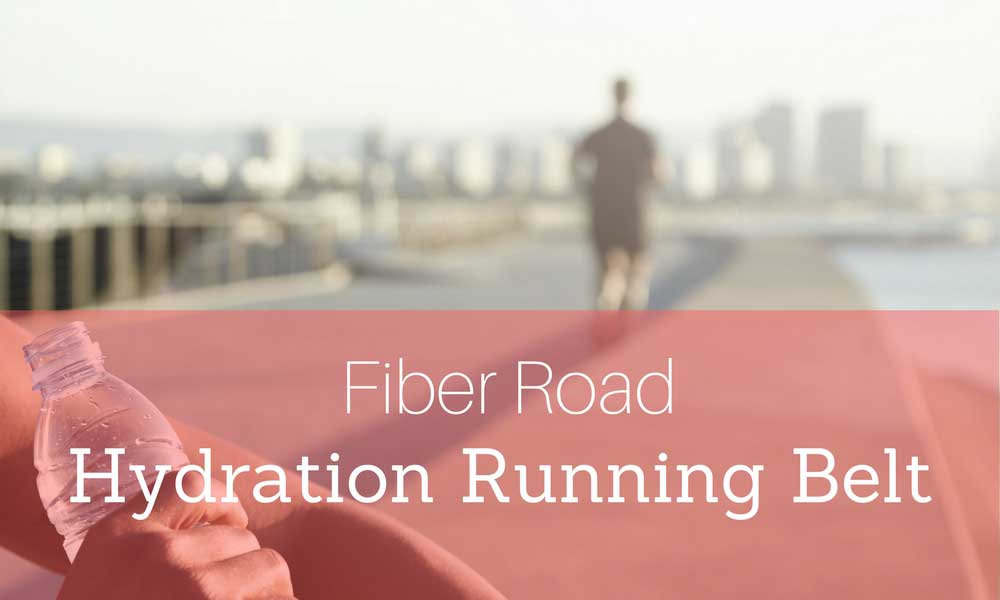 Not all have the time and the luxury to sign up for a gym – that is why several people go back to the basics, which is running. It is considered to be the best form of exercise because you don't have to spend any money to run around on the street or the park.
Through running, you can prevent or control multiple diseases such as type 2 diabetes, strokes, high blood pressure, heart diseases and so on.
However, there's one thing most runners forget when they're running, and that is being hydrated.
The Role of Hydration
Often, when we are running at a steady pace and are nowhere close to slowing down, we tend to forget to hydrate ourselves. We believe that stopping to hydrate ourselves will cost us more time, but it is actually the other way around.
We surely tend to lose a lot of fluid from our bodies when we run, so when we don't hydrate ourselves adequately, blood volume reduces, decreasing blood going to the heart and increasing the body's recovering time which affects our running performance.
Nonetheless, you must also remember that you can over-hydrate yourself while you are running.
That is because over hydrating will result in having gastrointestinal distress and in extreme cases, it can also cause hyponatremia. As a rule, having the right amount of water entirely depends on your body, the weather conditions and the distance you run.
Drink when you are thirsty, no need to continuously sip water
When it comes to running and hydrating, runners often complain that it is practically impossible to run around with a bottle of water. Not only is it unsafe to carry it around while you run, but it also slows you down.
Hence, experts suggest that having a hydration water belt at all times when you run makes perfect sense. Interestingly, today, you can already find a lot in the market, and the Fiber Road Hydration Running Belt is one of those.
Fiber Road Hydration Running Belt
The Fiber Road Hydration Running Belt will ensure that your run goes up a level with their hydration belt.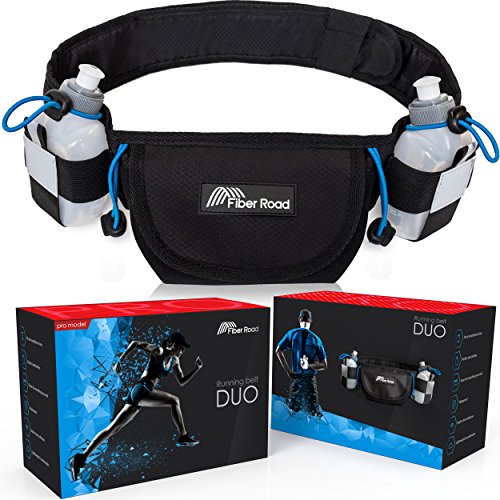 Features:
Capacity: The belt comes with the ability to hold two bottles that are included in the package. These bottles can hold up to six ounces of liquid, and they are BPA free. Moreover, they are incredibly convenient as they are only an arm's reach away.
Comfortability: No matter what your waist size is, the Fiber Road Hydration Running Belt will definitely fit you. This belt can be adjusted to fit waist size between 27 and 43 inches making it work great even for adolescents. To make it more comfortable, the company has ensured that the fit of this belt is snug and it is free from any bounce while you run. Likewise, it is also reversible to the point that it can be worn in the back or front and does not cause chafing. Further, storing the product is also convenient as it can be folded.
Material Used: You can be certain that this hydration belt will last you for a while because it is crafted with only the strongest neoprene material. In addition, this belt is also waterproof as well as safe when you run at night since it has two reflectors on the front of the pouch.
Hands-free Belt: Other than just holding the two bottles, there is a ton of room for all your essentials on this hydration belt. It has a small pouch in front which is large enough to hold your phone, some cash, cards or even your keys. The pouch has a Velcro seal to keep all your essentials safe even while you are running.

Shopping Perks: When you buy the Fiber Road Hydration Running Belt, the company includes their sweat-absorbing wristbands complimentary.

That is not all; if you are unhappy with their hydration belt, the company offers you a money-back guarantee. Moreover, if any issues with the belt occur, you can get in touch with the company's excellent customer service team.
Pros:
Made of high-quality, waterproof, and durable neoprene material
Capable of holding two, six ounces bottles
Comes with bottles that are free from BPA
The hydration belt fits individuals of any body frame.
It can be comfortably worn in the back as well as in the front
It fits snugly and bounce-free when running.
The pouch is roomy enough to hold other essential items.
Comes with complimentary sweat absorbent wristbands
The running fanny pack comes with a money-back guarantee offer.
Cons:
At times, it tends to get a bit difficult to fit the bottles back into its slot.
If you are in the extreme low or high end of the waistband range, it tends to be a bit uncomfortable
Summary
The Fiber Road Hydration Running Belt is a brilliant product for anyone who is enthusiastic about running. This hydration belt along with its two six ounces BPA-free bottles will ensure that you are hydrated at all times during your run.
Made out of premium neoprene material which is high sturdy and waterproof, this belt is adjustable for any waist size between 27 inches and 43 inches.
Along with their fantastic belt, you also get complimentary wristbands that are made of sweat-absorbent material.
Comparison with Another Hydration Waist Pack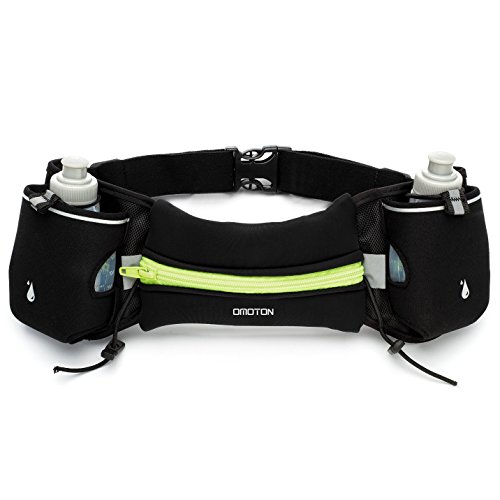 We chose the Omoton Hydration Running Belt to compare with Fiber Road Hydration Running Belt for you to know how the former fares against other products.
The Omoton Hydration Belt stands out when it comes to the size of the bottle it can hold since it was designed for two ten ounces water bottles.
However, the weight of it when filled makes it cumbersome to run around, and in some cases, it bounces off.
In addition, the zipper pouch in the front section is capable of holding a phone and nothing else. Also, over the course of time, this zipper tends to give away rendering the entire pouch useless.
Lastly, it is not waterproof which means it can get soaked in sweat while you run and will constantly need to be washed.
Final Conclusion
In conclusion, we can say that the Fiber Road Hydration Running Belt is a product that will prove to be highly useful during your run.
Not only will it keep you hydrated with its two six ounces BPA-free bottles, but it will also hold your essentials for you in its pouch. If you are not satisfied with this product, then you can opt for the manufacturer's money-back guarantee too.