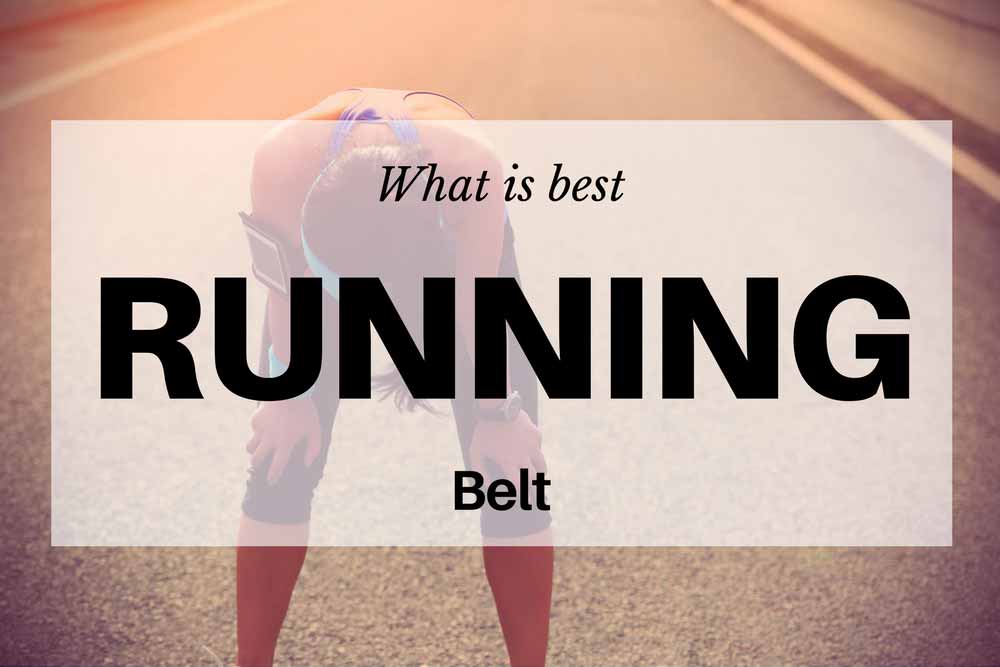 Every runner looking to improve their skills and performance knows the importance of running accessories. One of those things is a running belt. The best running belts not only make you look cool but also provide you convenience as you run and exercise.
Running belts are popular among runners, triathletes, hikers, and outdoor enthusiasts. That is why they should be more than ordinary. While the list of options on the market is long, it is also overwhelming.
It is only fair to say that not all of them will be suitable for everyone, no matter what manufacturers say in their product descriptions. For this reason, this article will provide the necessary information for you to choose the best belt.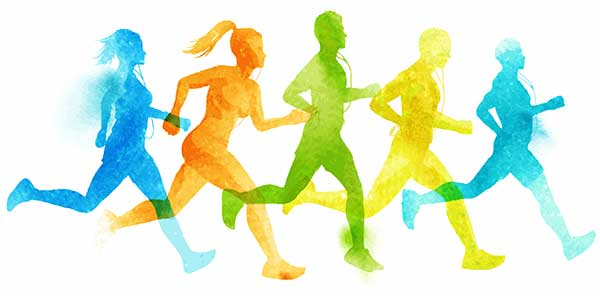 Running waist packs are popular among runners, triathletes, hikers, and outdoor enthusiasts. Some of them are suitable for travellers also.
What is a running belt?
A running belt, or a waist pack, has a similar function to an armband. Both are designed to hold your smartphones while running or working out. However, this accessory is more multifunctional.
It allows you to carry your valuable belongings so that you can exercise without worrying. One kind of running waist pack is a hydration belt where you can also put water bottles on both sides. This way, you can stay hydrated during a race or a workout.
Running waist packs are designed to stay fit on you even when loaded with lots of running accessories and big smartphones. Many armbands and traditional fanny packs do tend to bounce.
Factors to Consider in Buying a Running Belt
We look at these 5 factors more closely when figuring out the best running waist pack:
Comfort: most important factor is how does the belt feel on you.
Storage: what kind of stuff do you need to carry with you determines how much space you need.
Hydration: do you need to carry water bottles to stay hydrated.
Quality: what kind of materials are used, and does it last.
Color: color is not just for looks, it is also safety reason.
1. Comfort
The last thing you want is a running waist belt that is not comfortable to wear or is not snug enough for you to move with ease.
Thus, the comfort level is the number-one factor that you should consider. Wearing a waist pouch may be awkward during the first try, but you should eventually be able to run normally.
Look for a brand that will make you feel as if you are not wearing it at all. Aside from this, carrying a running pack filled with important items should not cause discomfort. It should remain secure so that it will not bounce as you move.
2. Storage
The next characteristic that you should check is the number of pockets in the belt. Your running case should have enough space for valuables such as an ID, headphones, money, wallet, or keys.
Aside from this, it should also be big enough to hold your smartphone, even one with a large screen, to keep it free from damage and scratches.
Before buying, you should make a list of the things that you have to bring to give you an idea of storage space. Furthermore, if you are choosing a hydration water belt with bottle holders, make sure to test their strength and their ability to keep the bottles in place.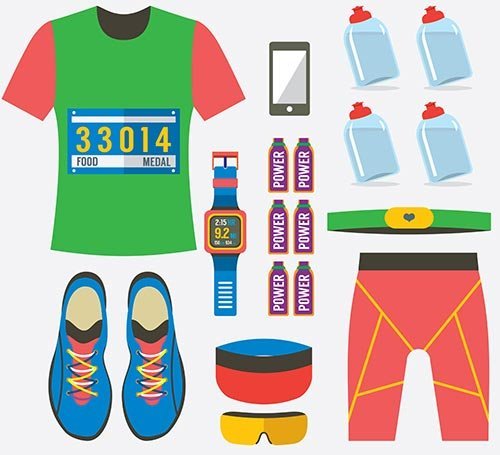 Make a list of things that you are going to carry with you to get an idea of the storage space.
3. Hydration Belt
If you are someone who often needs to carry water bottles while running, the best belt to choose is one with hydration belt feature.
This should give you quick access to liquids or water as you go about your intense activities. Look for a brand that allows you to access it using only one hand.
In other words, you should not have to stop running while pulling it out from the holder or take off the whole waistband. There are a lot of hydration waistbands on the market that have brackets while others have clips so that the bottles are firmly held in place.
4. Quality
Since running is part of a fitness enthusiast's lifestyle, you should choose a running equipment that is made of high-quality material.
Do not settle for cheap ones that are made to last only for a couple of weeks. Pick a running pouch that has quick-drying, washable, durable, and moisture-wicking features so that maintenance is easy.
For this factor, you should do further research and review customer feedback so that you are sure about what you are buying. Most running waist packs are made of synthetic materials, but it still nice to check out other types that are more durable and comfortable to wear.
5. Color
Yes, the color of your running accessory is an important factor to consider not only because of aesthetic purposes but also for safety reasons.
For those who enjoy running at night, it is strongly recommended to buy a reflective belt. The reflective belts should provide an extra layer of safety in low-light conditions.
List of 10 popular running belts
Here is the list of popular products with image, name, price range, and Amazon rating. You can see more information and current price by hovering over image or name.
Under the table, we look more closely five of the best products.
5 Recommended Best Running Belts
The following running belts are some of the best brands on Amazon that are highly rated. All of them got more than 4.2/5 stars of satisfaction rating, making them some of the favorites of fitness enthusiasts.
Read their short reviews and see if you will find the best belt that suits your style, needs, and budget.
1. Running Belt Max
This list starts with a high-rated running waist pack on Amazon, the Running Belt Max. It is considered one of the favorites by those who put comfort over other features since it is very soft and lightweight.
The product is made of Lycra material that is softer than the neoprene of other brands. It is multifunctional and easy to use whether you are exercising, biking, shopping, or traveling.
Just snap it around your waist, make some adjustments, and you are ready to go. Men and women will like this running pouch because of its sleek and fashionable design. It does not bounce or twist as you walk or jog because it fits perfectly with waist sizes of 27 to 48 inches (68 to 122 cm). Aside from this, the belt is also water resistant.
There are a lot of pockets big enough for all your belongings such as money, credit cards, passport, and more. In fact, you can even carry your large smartphone with you.
Meanwhile, there is also a rubberized earphone hole, so you can listen to your jams as you work out. There are a metal key ring holder and a spot to store sunglasses, too. All the zippers on this sleek pack are light-reflective for safe low-light running.
Furthermore, this product comes in a package with a water holder and a downloadable fitness book. Finally, it is complete with the manufacturer's lifetime guarantee.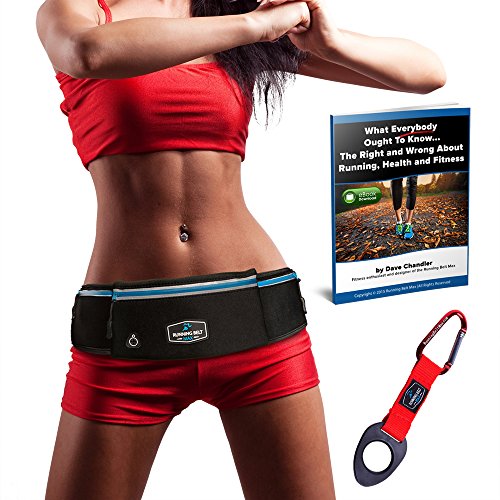 Pros:
Fully adjustable that fits waist sizes of 27-48 inches (68-122 cm)
Lightweight and comfortable to wear, great for exercising, running, hiking, and traveling
Bigger than other brands, enough to hold all valuables
Comes with two water holders that can be clipped to the belt loop and a downloadable fitness e-book
Complete with a lifetime guarantee from the manufacturer
Cons:
Too soft that it can be slinky
More on the bulky side and hard to conceal
Buy Now on Amazon
2. Eazymate Fashion Running Belt
Another fashionable waist pack worth having is the Eazymate Fashion Running Belt. This brand ranked number six under the waist packs category with 4.4/5 stars.
No products found.
There is no question about the positive feedback it receives, since the product is made by a manufacturer with a good reputation. The product is affordable, fashionable, and multifunctional, so you would want to wear this even during your travels.
It is available in three colors and stylish enough to go with your exercise and casual outfits. What's more is that it is not bulky but easy to conceal under your clothing when you need to.
This waist pouch has two pockets with a zipper, a smartphone pocket, and a key buckle. Its six-inch width (15.24 cm) is wider than other brands.
In fact, it is twice as wide as the leading brands on the market. It has pockets with zippers that will hold securely all your valuables. It is made to carry larger smartphones, too.
Of course, you can bring your money, credit card, and other important items with you while wearing this. That is why it is ideal for trekking, traveling, and other activities.
It is made of Spandex Lycra that is soft and hugs your waist and hips so that it does not look bulky, protecting your valuables from unnecessary damage.
Further, this waistband is also machine-washable, dirt-resistant, and easy to clean. With all of these features, you might never need the one-year money-back guarantee.
Pros:
Lightweight and comfortable to wear while exercising, running, hiking, and traveling
Made of Spandex Lycra that is soft and stretchable, able to hold and protect all belongings in place
Includes a smartphone pocket that can fit larger phones like iPhone 6/7/8 Plus and Samsung Galaxy Note 4
Includes two smaller pockets with zippers for passports, money, and other belongings
Six inches wider than the other brands, big enough to hold all important belongings
Complete with a one-year 100 percent money-back guarantee from the manufacturer
Cons:
Issues with the durability of the belt
Not as well-structured as the other brands
Does not have an elastic band or buckle
Buy Now on Amazon
3. FlipBelt Zipper
Coming third on the list is the FlipBelt Zipper, which is actually the upgraded version of the classic FlipBelt. While the manufacturer maintained many of the original features, this one comes with an extra zipper pocket to provide more security for your valuables. The belt includes four openings.
Two you will find in the front, and the other two are in the back. These openings or pockets may not have zippers, but they are secure enough for your money, keys, and other items.
If you want to be sure, you should put those you don't want to lose inside the zipper pocket. While this tubular belt is designed for fitness enthusiasts, there is no stopping you from using it as a travel belt.
It has so much room for your passport, credit cards, and room keys, too. Moreover, it is also made to carry larger smartphones like the iPhone 7 and 8 Plus and Samsung Note.
To wear this waistband with tubular form, you just have to step into it like how you wear pants, place it in your preferred position on your hips, and then you are good to go.
With right sizing, it will fit so well that it will not bounce or shift as you walk, jog, or sprint. Sliding your belongings through the access points is seamless, too.
Aside from that, you can also secure your keys on the sewn-in clip. Lastly, it has a 3M reflective safety logo. With all these of features, you are sure to feel more secure wherever you are going.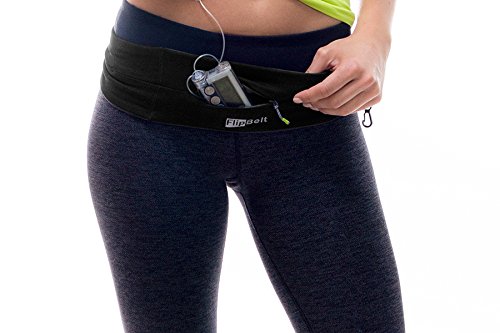 Pros:
Better zipper features compared to the original FlipBelt
Comfortable, easy to wear, and easy to use
Sliding your belongings in and out is easy
A great travel belt that is also ideal for walking, hiking, biking, and more
Lightweight and easily fits the body so that it won't bounce or shift while moving
Stretchy, machine washable, great for air drying
Product has a one-year warranty from the manufacturer
Cons:
The size of the tubular belt is not adjustable
More expensive than the other leading brands
Not waterproof
Buy Now on Amazon
4. Running Hydration Belt by X-Fit Factor
A hydration running belt is a must-have for every running enthusiast, and one of the best ones on the market is made by X-Fit Factor.
It is made of neoprene that is durable and waterproof, able to withstand your everyday running schedule. Aside from this, the material is also lightweight so that you can jog or move with more ease. Even the zipper pockets are made of superior quality materials.
There you can keep your important belongings such as a wallet, a smartphone, and more. It also has a phone pocket with a hole for your earphone cord, so you can listen to music while running.
The product is ideal for both men and women and for most sizes because it is fully adjustable. It does not easily slip or bounce as you run or move. Another good feature about this product is that the material does not cause itching or skin irritation.
The running hydration belt does not only integrate bottle holders but also includes two 10-ounce (0.3 liters), BPA-Free, Leak Proof water bottles. This way, you can stay hydrated throughout the course.
Further, it also has light-reflective parts that make you visible and safe along the trail. Lastly, this running water belt also offers 100% Risk-Free Satisfaction Guarantee, allowing you to buy with confidence.
Pros:
Fully adjustable and fits any waist, great for men, women, and kids
Made of neoprene that is lightweight and waterproof
Includes a zipper made of superior quality material for durability
Features two 10-ounce (0.3 liters), BPA-Free, Leak Proof water bottles to keep you hydrated wherever you are
Features light-reflective parts to keep you visible and safe on trail
Cons:
Issues with the water bottles leaking
Reports about water bottles' caps breaking easily
Not ideal for kids with small waists
Buy Now on Amazon
5. Hydration Running Belt by Camden Gear
Another hydration belt for running on the list is made by Camden Gear. Like the other brands, this one has integrated water bottle holders, so you can stay energized and hydrated while running.
Also, you can carry your bottles hands-free. The product fits waist sizes up to 43 inches (109 cm), which makes it ideal for both men and women. Meanwhile, the Velcro strap allows you to adjust the fit, so it will sit on your waist perfectly. By adjusting the belt to the right fit, it won't bounce or shift while you move.
Moreover, the hydration waist pack also has large pockets that can fit most smartphones, even the iPhone Plus size and Samsung Note. They are sure to protect your other valuables such as money, credit card, and keys, too. With four elastic straps, you have more room for keys, race bibs, and gel packs.
The waist pack is also lightweight and snug, so you will hardly notice you are wearing it. It fits the body and does not weigh you down, unlike the other hydration belts. Lastly, it comes in a package with two six-ounce (0.18 liters) bottles that are perfectly sized and are easily accessible.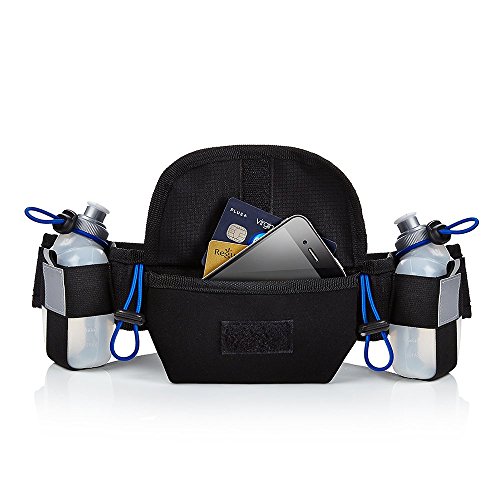 Pros:
Fully adjustable up to 43 inches (109 cm), great for men, women, and kids
Includes a Velcro strap that easily adjusts to your fit
Snug and lightweight, does not bounce or shift as you move
Has large pockets that fit most smartphones with large screens like iPhone 6/7/8 Plus and Samsung Galaxy Note
Perfectly sized water bottles are easy to get in and out of the belt
Responsive customer service
Cons:
Not ideal for small, slim girls because the belt tends to bounce
More on the bulky side
Only good for training and not for actual races
Buy Now on Amazon
Conclusion
All five products listed above are considered the best running belts, but they do not go without any disadvantages. Some of them are not adjustable while others are not as durable as they should be.
Overall, there are more features that make them stand out from the hundreds of choices on the market today, and they are better than armbands since you can put more items inside them, easing your worries about your important belongings getting lost. Aside from this, they are good alternatives for a travel belt, too.
Running waist packs are not only secure but fashionable as well, and it is a must-have for runners and sporty individuals who spend a lot of time outdoors.