The Best Running Belts and Waist Packs for Women
Before we even start listing which women's running belts are the most suited for you, let's start off by telling the absolute newbies here who are first-time buyers of running belts what they exactly are and what you should be looking for before investing in one.
If you are the kind of person who carries their belongings on a run, such as a phone, keys, wallet, water bottle, and sports gel, then some sort of armband or running belt or backpack is what you need.
There are lots of different types of belts and backpacks and bands to choose from.
Let's first look at the basic types of these accessories.
Types of Running Belts
Here we have a list of different ways to carry your phone and belongings and fluid with you.
1) Pouch Design
The pouch design is the most simple one, as it attaches to any other item of clothing. Running Buddy is perhaps the most famous brand of these.
2) Armband
An armband, or a cell phone armband, is a band that is strapped to an arm, allowing you to keep your smartphone with you, and to listen to music.
It allows you to carry your phone, and a key, without worry or discomfort, but that's all.
You can read more about Armband vs. Running Belt here.
3) Handheld Water Bottle
Handheld water bottles are lightweight and easy to carry. Most bottles have a small storage pocket for keys or ID.
Some models feature enough pocket space for a phone, but normally if you want to have a phone with you, you should have an armband.
4) Belt With Tubular Design
This style of belt wraps entirely around your body, and you step into it, rather than close it with a buckle.
They are simple, minimalist and good looking, but you need to be careful with the sizing.
Favorite brands are FlipBelt, PakRat, and StashBands.
All of them have color options to choose from, and they can be used in any outdoor activity, and also for travels.
5) Running Belt With Pockets
This belt is the more traditional design that most fitness enthusiasts are familiar.
You close it to your hip with a buckle or velcro strap, so finding the right size is not so critical as with tubular design.
These belts rely on zippers and buckles to hold your gear in place.
6) Hydration Belt
The hydration belt is the same thing as the traditional running belt, but it has water bottles included. These are great for long-distance runners.
7) Hydration Pack
The hydration pack is like slimmed down version of a backpack. It is more lightweight and its primary purpose is to give water to you when you are on a long run.
8) Running BackPack
Running Backpacks fulfill the need to provide water storage along with the ability to bring other necessities along for the run or hike.
Now that we know what types of belts and backpacks are out there, we concentrate next on the main features of running belts.
Features of Running Belt
There are a few things you must keep in mind before buying a running belt.
We will list some of the top features that you need to consider before you buy one.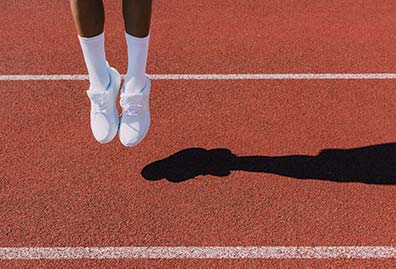 what is your level of use
the fit of the belt
storage options for hydration
storage capacity
the appearance of the belt
A crucial aspect of buying a belt is that you need to know what exactly is going to be the level of use. Each running belt is different. Some are made for short runs while some are only intended for long marathons.
Hence, based on whatever your usage is, you should settle for one that fits your needs perfectly.
The fit of the belt is very important before you buy one. You certainly don't want a belt that is loose around your waist which you will have to constantly adjust.
That is an absolute no-no.
Most belts come in sizes small, medium, and large or have adjustable straps ranging anywhere from 22 inches to 50 inches.
So, get that tape out and measure your waist to know which size will fit you the best.
One thing you will notice is that not all running belts come with storage options for hydration.
So, if that is something that is necessary for you during your run, find a running belt that offers hydration storage options.
Each running belt varies in its storage capacity. If you are looking to store quite a number of things in your belt, be sure to ensure that the selected belt has ample space.
Now that we've listed the top features to keep in mind before you pick up your first running belt, let's talk about what are the best running waist packs available in the market right now!
In this list below, we are going to briefly speak about three different running belts at three very different price points, starting from the lowest to the highest.
Under these reviews, we show you two nice options for belts with tubular design.
Women's Running Belt reviewed
The three Women's Running Belt we are reviewing today are:
FlipBelt Zipper Running Belt
Fitlectic Ultimate Running Belt II
Nathan Trail Mix Plus Hydration Belt
1) FlipBelt Zipper Running Belt
If you are a novice runner and looking for a comfortable running belt, then Flipbelt Zipper is perfect for you.
It is available in sizes XS-XL, with several color options.
You wear it by pulling it on like a pair of pants (step into it and slide it up). You can keep it either under or on top of your clothes.
You can place your phone and valuables into the zippered pocket.
You have to choose the size that fits you. And when you have the right size, it has an amazing fit and does not bounce when you run. You can find the Flipbelt sizing chart here.
It feels so good that you forget that you are wearing it.
Aside from running, you can use it as a travel belt, accommodating passports, credit cards, and other important items you often use.
2) Fitletic Ultimate Running Belt II
This is a perfect running belt for those who have been in the game for a while. It comes with an exclusive Dura-Comfort technology along with an ergonomic design that contours to your physique to completely eliminate bounce.
The belt has adjustable straps that will fit waist sizes between 24 inches to 42 inches. This belt has a wide neoprene design that comfortably sits on your waist.
There is one large pocket and within that is another small pocket to hold your credit cards and some cash. The storage capacity of this running belt is 6 inches x 3 inches.
This belt also has five exterior energy gel loops. This gives you free access on-the-fly. Along with the high visibility reflectors, the belt also sports marathon race bib toggles.
The downside to this belt is that the space is not as wide as you would want it to be. If you have an iPhone Plus series, you are surely going to have a hard time fitting in your phone.
3) Nathan Trail Mix Plus Hydration Belt
For all those marathon runners out there, we would highly recommend that you would settle for this running belt. The design is smart and this belt is really light and soft on the waist.
This ergo-shaped soft monofilament belt not only offers multi-directional stretch but also manages to eliminate that unwanted bounce.
The belt consists of speed-fit holsters. This holster will give you one-hand access to your running gels and hydration.
The biggest selling point for this belt is that they come equipped with two 10 oz./300 ml water bottles. The speed-fit holsters hold the water bottles securely.
It also has elastic keepers to hold the excess strap. This belt can hold an iPhone Plus series phone in it along with a little cash or a card or two. But that's about it. It has a very limited storage space.
The Bottom Line
Belts with adjustable straps fit all waist sizes. When you buy a belt with a tubular design, you have to choose the right size for you.
Certainly, we have given you enough detail and quite a few options to select from for the best running belt for women.
We hope this helps you on your path to fitness.